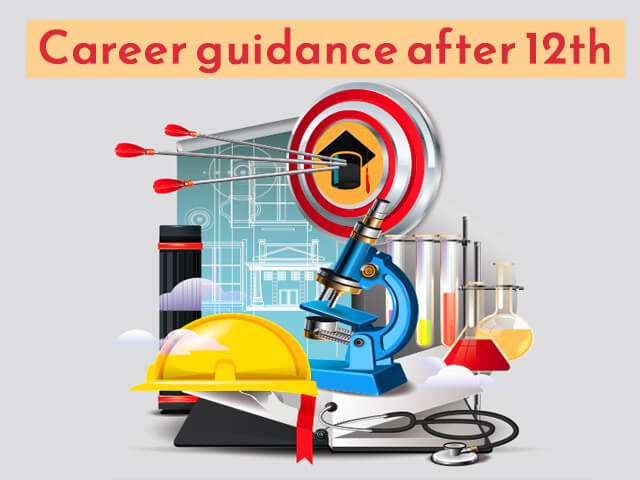 With high school years coming to a conclusion, moving towards the next phase can be distressing for many students. While your schooling journey does not involve much career planning with only stream selection and adequate time to explore one's different interests, transitioning from school to college can decide the fate of an individual's whole career. Often, many of them feel confused in the world full of career choices. At such a crucial juncture of life, receiving reliable career guidance can define the path that lays ahead. However, the importance of career guidance after 12th is quite understated in the Indian education system. Through this blog, we will explore how imperative it is for students to be provided with career guidance after 12th and how Gen-Z Careers can help you with choosing the right career path.
This Blog Includes:
Best Career Options after 12th
For Non-medical Science (PCM) Students
For Medical Science (PCB) Students
For Commerce Students
For Arts & Humanities Students
Unique Career Options after 12th
Top 10 Universities Around the World
Importance of Career Guidance after 12th
How Gen-Z Careers Can Guide You in Choosing the Right Career Path After 12th?
How to decide what to do after 12th?
Free Online Career Counselling after 12th
Best Career Options after 12th
Having completed class 12th, students generally look for the best academic options available in the stream they chose in 11th they can make from their stream. There is a sea of different careers in each stream to select from. It is a bad bet to choose your career without career guidance after class 12th as a directionless choice can jeopardize your progress, wasting precious time of your academic years. Let's explore some of the popular degree programs you can explore under each stream of study:
For Non-medical Science (PCM) Students
B.Tech- Bachelor of Technology
B.E- Bachelor of Engineering
Bachelor of Architecture (BArch)
Actuarial Science
Commercial Pilot Training
B.Sc: Bachelor of Science (Physics, Mathematics, Chemistry)
BCA: Bachelor in Computer Applications
For Medical Science (PCB) Students
MBBS: Bachelor of Medicine and Bachelor of Surgery
BAMS: Bachelor of Ayurvedic Medicine and Surgery
BHMS: Bachelor of Homeopathic Medicine and Surgery
B.Pharm: Bachelor of Pharmacy
BTech in Biotechnology
B.Sc (Nursing, Food Science, Microbiology, Zoology, Psychology)
Bachelors in Physiotherapy
Bachelor's in Hospital Administration
For Commerce Students
B.Com– Bachelor of Commerce
Chartered Accountancy
BBA– Bachelors' in Business Administration
LLB– Bachelors' in Law
BA in Economics
BA in English Literature
BSc Maths
Company Secretary
CMA- Cost and Management Accountant
CFA- Chartered Financial Analyst
For Arts & Humanities Students
BJMC- Bachelors' in Journalism and Mass Communication
BA (Sociology, Psychology, History, Political Science)
LLB- Bachelors' in Law
Hotel Management
BA in Economics
B.Des.- Bachelors' in Design
BFA- Bachelor of Fine Arts
BCA- Bachelor of Computer Applications
Unique Career Options after 12th
Do you want to pursue an unconventional career and not a mainstream one like engineering or medicine? There are plenty of options available which applicant can choose from after the 12th:
Data Science
Accessory Designing
Robotics
Construction Management
Forensic Science
Radio Jockey
Filmmaking
Fitness Instructor
Top 10 Universities Around the World
From academic laurels to years of heritage, the top colleges and universities aim to equip students with the best global exposure to follow their dream career. International exposure speaks volumes when it comes to accentuating your knowledge, networking opportunities and skillset. Many universities abroad provide customised programs to offer students the best core and elective subjects choosing from which they can alter their course. But many give up on their dream to study abroad by pondering upon the costs as well as its extensive process. But seeking career guidance after 12th, career counsellors can assist you throughout the admission process from selecting a suitable course and university to sorting out admission intakes, scholarships, accommodation and visa process. Let's first go through the top universities in the world as per the QS and THE World University Rankings 2020:
Top Universities
QS World University Rankings 2021
THE World University Rankings 2021
Massachusetts Institute of Technology, USA
1
5
Stanford University, USA
2
4
Harvard University, USA
3
7
California Institute of Technology, USA
4
1
University of Oxford, United Kingdom
5
2
ETH Zurich, Switzerland
6
13
University of Cambridge, United Kingdom
7
3
Imperial College London, United Kingdom
8
–
University of Chicago, USA
9
10
University College London, United Kingdom
Importance of Career Guidance after 12th
Even after picking a stream after class 10th result, there is an ocean of alternatives in each stream of study. From Commerce to Arts and Science, every stream has its own vast range of specializations, degrees and diploma courses and you can also change streams through exploring short-term courses after 12th. Being inexperienced and unaware of many opportunities that lie before them, students often miss out on the best available options for them. This marks the essential importance of career guidance after 12th class. Here are some of the benefits of career guidance after 12th:
A career counsellor assesses the potential and inclinations of the student and further assists them in selecting a suitable course and college along with exploring the best scholarships for them
Education consultants play an indispensable role in helping students discover the best possibilities, be it studying in their home country or abroad while also advising them on the student loan process and related formalities
These experts also help you discover new courses that suit your personal goals while keeping viability in mind
All this help makes the whole cumbersome process of finding the right path after 12th result admission process a lot simpler and fruitful thus guiding students throughout this crucial and stressful stage
How Gen-Z Careers Can Guide You in Choosing the Right Career Path After 12th?
Before aligning your goals with a certain course or college, you must be aware of the direction in which it leads. Always strive towards picking a field of study which relates to you, which feels enjoyable and something you wish to explore. Your efforts can be brought to fruition if you get the right career guidance after 12th as an educational counsellor can help you find the best career path. Students who are able to find their right mix of course and college excel effortlessly.
At Gen-Z Careers, we strive towards providing the best educational guidance to shape your career as per your needs.
Below we have elaborated on the process and services we offer to ensure that students get the best career guidance after 12th:
Psychometric Test
When a student connects with a Gen-Z Careers counsellor, we help them determine their skills, capabilities and interests by asking them to take a Psychometric Test. This test reflects the basic cognitive and reasoning skills possessed by an individual and further helps the counsellor assess the best study options and career choices that align with the student's interests and aspirations.
Discover the Best Global Opportunities Abroad
When you make your mind to pursue higher education abroad, there is a complete checklist of tasks you need to tick off. From guiding students in choosing the right course and university to helping them sort out the admission process of their chosen university, our mentors stay by the student's side throughout the whole process. Further, our network comprises mentors from top colleges and universities across the globe and these mentors help students throughout the admission process, right from submitting a winning application to securing a suitable scholarship to fund your higher education.
Standardized Test Prep
To guide students who are preparing for competitive exams like IELTS, TOEFL, GMAT, GRE or SAT, we provide standardized prep modules, designed by the best-in-class industry experts. Online classes are headed by a top-notch faculty and online doubt sessions are also facilitated to ensure that students are getting the best guidance to successfully ace their exam with their dream score.
Leverage Live
Get Career Guidance from Our Network of 1500+ Mentors
At Gen-Z Careers, our experts are here to solve all your career and admission-related queries. Connections with over 1500 professionals help us in aiding every student on a personal level, giving them insight into the right career path that fits their preferences and aspirations.
Guidance Throughout the Admission process
Once you have made your decision pertaining to the course and university, our experts assist you in crafting the best SOP and LORs, securing the right education loan or scholarship as well as submitting your application within the deadline to ensure that you get successfully shortlisted.
How to decide what to do after 12th?
Are you planning to study abroad and confused about which course to choose? Selecting the course is an important decision of every student's life. From so many options to choose from and the study destination, anyone can be easily confused. Course Finder by Gen-Z Careers will help students by filter the best universities for them depending on their academic and extracurricular profile.
Gen-Z Careers Course Finder
Free Online Career Counselling after 12th
Gen-Z Careers has a reputation for providing the best guidance to students and allowing them to use the available resources like scholarships, fellowships, and mentorship networks to build their careers. Unlike the profit-driven traditional counseling, the career advisers at India's fastest-growing Edtech marketplace follow a friendly approach keeping the economic and other possible restraints in mind. The career counseling at Gen-Z Careers involves the use of psychometric tests by highly trained professionals who assess your profile, based on which your subject of interest is evaluated. The effective use of hi-tech AI-tool is made to scan through hundreds of career options and their corresponding universities to choose from. You can also get 30- Minute free career counseling from the experts at Gen-Z Careers. You can call us at +91-99991 22076.
Hence, we hope this article helped you understand the essential role of career guidance after 12th. As a prospective college student, you must pick your course as per your personal preferences and strengths. Our Gen-Z Careers counsellors are here to help you make an informed choice at this crucial phase of your academic journey so that you steer towards the right career path you have always dreamed to explore. Book a free E-meeting right away to embark on your path to academic excellence.